Projects 2016
Reverse Engineer Screen Thingy – Best in Show Winner
People Involved: Harry, Becky, Eoin, Aziz
Hack Details: Reverse engineered the communications protocol for locked down USB Digital Music controller so it would work on Linux operating system.
Keep your Distance – People's Choice Award
People Involved: Federico, Murresh, Tríona
Project Description: An arduino with distance sensors are mounted in a laser cut box on the rear of a bicycle. A matching vest can be connected to the arduino via a quick release connector. On the vest is an array of LEDs in the shape of an exclamation mark. The vest blinks faster the closer the cars are to the bike, warning the cars to keep their distance
Project: Build a model Wave Energy Converter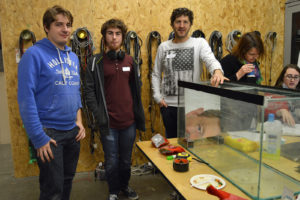 People Involved: Aziz Bahri Andrei Paleyes Manoel Casquilho Ken Russell
Project Description: The project goal was to produced and measure electrical energy converter from wave energy. A magnet and coil system was assembled at one end of the fish tank and a wave producing paddle installed at the other end.
Project Name: Science Hacked Poetry
People Involved: everyone I asked questions of
Project Description: Writing poems inspired by and in response to projects at Science Hack Day Dublin
Project Name: A better braille display
People Involved: Brian, Phil, Pan Pan, Mathieu, Tristan, Becky, Maeliss, Bernard & Ying FengProject Description: Braille displays are extremely expensive (80 char x 2 lines is several thousand Euro) They are also fragile. A bit of dust or dirt can ruin them. They consume considerable battery power to attain the 200 volts necessary to quickly move the pins. This also makes them more dangerous than a Samsung galaxy note 7. A friend's Braille display started smouldering while she was in university. There must be a better way! Electromechanical, materials and 3D printing skills. Braille pins are tiny. Would it be possible to create micro levers? Memory metal, magnetic, electrostatic, pneumatic, hydroponic or steam-powered actuators.
Project Name: Photographing Water Drops
People Involved: Mike, Tanya, Dafne, Sinead, Carlos, Cristina, Tad
Project Description: Creating an automatic water drop dispenser and sensor to allow single shot photography of water drops. Investigated the properties of water drops after hitting water using Fluorescein and UV illumination.
Links to Code: Will be supplied
Links to Pictures: https://goo.gl/photos/BdrfuxL966gNtdPH8
Project Name: Floating lanterns
People Involved: Brian, Phil, Jenny, Bernard & Mathieu
Project Description: prototype 2 types of lanterns; one floating in water with an LED light that changes colour in response to heat; the other floats in the air. LED are powered by Arduino; One uses a DHT digital temperature and humidity sensor and Arduino Nano. It is powered by USB power brick. The other one uses a thermistor and an analogue input to aTiny85 microcontroller and it is configured to turn the red LED on if the temperature rises and the blue LED if the temperature falls.
Links to Code: https://github.com/science-hack-dub
Project Name: Laser Cut Clothes That Fit?
People Involved: Maria (coding, sewing), Louise (arm holes), Triona (all the things), Jeff (making lasuersaur submit to our will)
Project Description: I'm lazy and like nice things that fit, so I wanted to write software to turn the basic patterns everything else is built on into ones that humans not from the 50s, and then I also wanted to avoid having to do much work to turn those patterns into clothes. Maths/Python -> Variable Patter -> Laser Cutter -> Sewing -> 😀
Project Name: The Turning And Indicator Mitten
Project Name: BIG JavaScript Piano Keybaord
People Involved: Panpan Lin, Ying Feng
Project Description: Panpan would like to be able to play the piano anywhere she goes without carrying her keyboard or special software installed in her laptop, but she is not happy with the existing piano keyboards in the browser because they are too small and not ergonomic.
Links to Code: https://github.com/neko2016/p5piano
Anything else?: Do we really need a GUI?