Projects 2014
DoorWatch – Best in Show Winner
sponsored by  'EndNote'

People Involved: Daniel, James, Igor, Kelson, Leandro, Jordan
Project Description:  We have built an interactive doorbell that notifies the house tenants via their smartphones. A camera pointing at the front door, that takes a snapshot when the doorbell is pressed. This picture is sent to all subscribed smartphones. Users will be able to open the door remotely via their smartphone. Potential use cases of this idea are the following: – Get notified that someone rang and but didn't hear it because you have the music loud or you are wearing headphones. – Notify people with hearing problems – If you have two front doors with a small porch in between, you could open the delivery guy the first door to leave the package even if you are not at home.
Video Demo:  
Drum-Solo Pants – People's Choice Award
sponsored by  Innovation Academy UCD
People Involved: Jason, Eoin, Tanya, Mike, Becky, Richard, Michal, Harry.

Project Description: An Arduino and Raspberry Pi based project turning Piezo pickups into drum-kit triggers for a Drum-Solo Pants experience.
Links to Code: https://github.com/harryhaaren/Drum-Solo-Pants
Anything else?: Yay, SCIENCE!
 MIDI Xylophone – Best Hardware award
Sponsored by UCD School of Mechanical & Materials Engineering
People Involved: Stuart Lawn, Krzysztof Foltman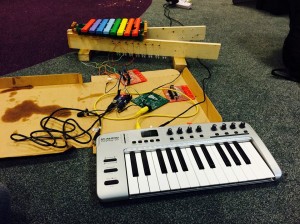 Project Description: This project changed midway from being an Arduino controlled Slap Tube machine to being an Arduino controlled Xylophone. We found that the force required to hit or slap the plumbing pipes to produce a note was too great for the Solenoids that we had available. Using the same principle we modified a childs Xylophone to be struck from underneath by Solenoids thus producing a note. We found that a single hit also didn't make a loud enough sound so we modified the Arduino software to make a repetitive knocking which produces a good noise!
Anything else?: One safety tip for anyone trying this. When you are mounting the solenoids, don't make the same mistake as us and overtighten the screws as they will puncture the windings of the coil and render the solenoid useless. We managed to lose 5 solenoids by being too forceful with the screws. In the end we used hot glue to mount the solenoids and this worked much better with no chance of damaging the solenoid.

 AirVis – Best use of Data Award
Sponsored by Cartrawler
People Involved: Panpan Lin, Maria O'Connor
Project Description: Air Vis Air pollution is a huge problem in many industrialised countries. Small particles in the air can block lungs, causing serious illness. AirVis is a project to visualise this problem. We looked at china in particular. In china air quality information is published by both the US and Chinese governments, and the discrepancies are pretty interesting.
Links to Code: you do not want to see the code. python web scraping to mysql is brain-smushing.
Links to Pictures: currently offline – check the presentation
Anything else?: Behind the scenes our code is capable of querying worldwide weather stations, so we'll probably end up doing less sleep deprived visualisations for other places after today, but sadly the air in ireland is so clean they don't even turn on the sensors most of the time.
Texting Glove – Best Design Award
Sponsored by Career Zoo
People Involved: Triona, Cheryl, Daniel, Stark, Emily, Shashank
Project Description: Texting glove is a high tech glove with an integrated keypad allowing you to text while yours hands stay WARM. The idea was born from the problem of needing two hands to type, or even operate the oversized mobile phones of today, especially in the coming cold months. So the idea was to create a one-handed glove that would enable you to 'type'. Different layouts and systems are possible, but for ease we went with a mobile phone txting layout, e.g. one press is an A, two is a B, three is a C. Each finger phalange had a conductive fabric pad, which when touched by the thumb pad (completing the circuit) would count as a button press. The pads were connected by conductive thread down the back of the hand to a Lilypad, which worked out what letter you were making, and then sent this over serial to a laptop.
 FARM Life – Greatest Potential Impact Award
People Involved: Jason Roe, Martin Brunell, David Craig, Michael Niland, Leonardo
Project Description: Introduction: FARM Life is the brand that will become the industry standard for FARM Life health and safety solutions that will reduce the risk of FARM Life accidents for both human and animal welfare. The FARM Life solution to the problem of FARM Life accidents will be addressed by the adoption, by the FARM Life owners, of standard multi-faceted technology product service delivery solutions consisting of multiple elements that are both common and unique to individual geographic FARM sites locations. The value Proposition: Health and safety is a concern for both human and animal welfare and an evolving industry compliance requirement. Unique Selling Point: There is an absolute need for safe FARM Life and a necessity to become "Future-Fit" to meet the evolving future regulatory and compliance requirements. PROBLEM: To identify the health and safety FARM risks that can injure, mame or kill owners, employees, family members, visitors as well as animal welfare considerations. SOLUTION: The solution to the problem will consist of a multi-faceted approach consisting of 'off the shelf' as well as new product technology solutions that address the specific risk assessments identified.
Anything else?: Special thanks to the UCD Innovation Academy and the sponsors for a unique opportunity and a great fun, educational time had by all.
The Concentration Box – The Keep Going Award
People Involved: Tríona, Emily, Rachael, Miriam, Mike, Maryam, Marianna
Project Description: This is a closed box that contains a treat. It can only be opened by successfully answering a Scientific Calculation.
Anything else?: Serious thanks to Colin on the 3d printer, Jeff for his giant arduino and display, Shashank for some hardware.
 Servocalligraphy
People Involved: Becky, Pat, Paul, Rachael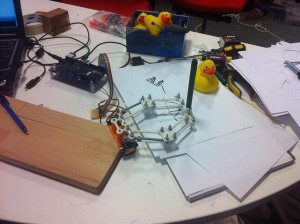 The Internet of Toast
People Involved: Jeffrey Roe, Joe Mansfield
Project Description: Modify a toaster to recognize multiple users and learn how to make perfect toast for each user and have it automatically tweet about it.
Anything else?: Loads of things worked in isolation but we never made toast. 🙂
Project Name: Skills Hub
People Involved: Cathal Killeen (@cathalkilleen) Cristina Alexa (@cristina_alexa)
Project Description: Website for people to advertise their skills and be hired to do short period jobs. Also able to search for people nearby with skills that you are looking for.
Links to Code: https://github.com/C4TH4L/SkillsHub
Anything else?: The project is not finished but we are going to keep working on it!
Project Name: The Cheapest Beer
People Involved: Thiago Oliveira, Christophe Paka, Alex Oliveira
:
Large 3D Prints
People Involved: Colin Keogh, Guilherme Gadelha, Shashank Chakerwarti, other makes with projects over the 2 days.
Project Description: Our big prints ended up being smaller prints due to the "brilliant" reliability of the Ultimakers. So we produced a 3d printed motorized lock for @triploidtree's Concentration Box, parts for Becky's Servocalligraphy project, a 3d printed bow tie for Shashank Chakerwarti, printed chain link pieces and a high def model of a girl.